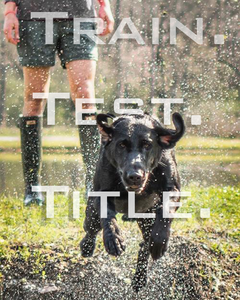 TRAIN. TEST. TITLE. HUNT.
At Perfect mARC we design, develop and deliver innovative retriever training products for those who are passionate about training.
Until the Perfect mARC remote bird launcher, trainers have been forced to choose between a compact, transportable launcher that doesn't throw high visible marks, and a more expensive, larger framed launcher that throws great marks, but is difficult to store and transport due to its size.
With our patented telescoping frame design, trainers are able to unfold and extend the aluminum frame to throw high arcing marks and when finished training, retract and fold the frame flat for easy storage and transportation. The frame's unique patented NetZero design provides the most stabile throwing platform in the industry by offsetting forces of the elastics. The innovative patented SlotSlide cam system along with patented CrossKeeper stowing ensures a hassle free setup and teardown by eliminating the need for hinges and leg clips.
In addition, Perfect mARC's patented RollerGlyde release trigger system uses friction minimizing rollers to ensure a reliable launch every time, letting you focus on the line to bird, not the one on the trigger of your launcher.